Associate Music Director and Collaborative Pianist
Jenna Richards – Associate Music Director and Collaborative Pianist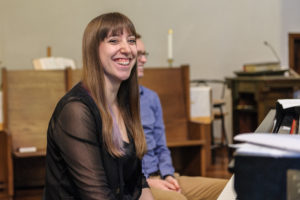 Jenna Richards joined the Canadian Centennial Choir in September 2014 as our Accompanist.  She assumed the position of Associate Music Director and Collaborative Pianist in 2021.
A native of Halifax, she holds associate diplomas in piano and violin from the Royal Conservatory of Music, a Bachelor of Music in piano performance from the University of Toronto (where she received consecutive Glenn Gould Scholarships, the Fay Hethrington Scholarship, and the Lydia Wong Scholarship), and a master's degree in philanthropy and nonprofit leadership (MPNL) from Carleton University in Ottawa. Jenna has represented Nova Scotia in national music competitions and attended several prominent academies, including the Orford Music Academy (Quebec), Domaine Forget (Quebec), Adamant Music School (Vermont), Toronto Summer Music Academy, and Mozarteum International Academy (Austria).
Jenna has performed at the Ottawa International Chamber Music Festival (Chamberfest), Orford Music Festival, Scotia Festival of Music (Halifax), Tuckamore Chamber Music Festival (St. John's), and Four Seasons Centre for the Performing Arts (Toronto), and in chamber series throughout central and eastern Canada. She often collaborates with cellist Beth Silver, including performances for Dominion-Chalmers' noon-hour series, Festival Pontiac Enchanté and the King Music Collective.
A passionate ambassador for the arts as both a solo and chamber musician, Jenna is pursuing a joint career in performance and arts administration. In addition to her busy schedule as a performer and accompanist for two Ottawa choirs, she works as Artistic Administrator for the Ottawa Chamberfest.