2007-2008
The 2007–2008 season marked the 40th Anniversary for the Canadian Centennial Choir. As such, we were proud to present three spectacular concerts of beautiful, moving music. The themes of these concerts celebrated music and the fact that music has significant meaning to us, in many varied ways.
Home for Christmas
Saturday, December 8, 2007
Parkdale United Church
To open the season, our first concert was one of our audience favourites: back by popular demand, we performed sacred and secular seasonal music with brass and organ accompaniment – including the popular audience carol-singing!
The Face of Choral Music in Canada
Saturday, March 1, 2008
Parkdale United Church
The face of choral music in Canada is diverse and varied. We have a strong tradition of music in our country and we hold a firm belief in the importance of music in our society. The music of our second concert stemmed from the abundant wealth of Canadian choral music. With songs from coast to coast of our vast country, from composers such as Healey Willan to R. Murray Schaffer to Stan Rogers, from Canadian motets to folk and pop song arrangements.
A Concert of Hope
Saturday, May 31, 2008
Dominion-Chalmers United Church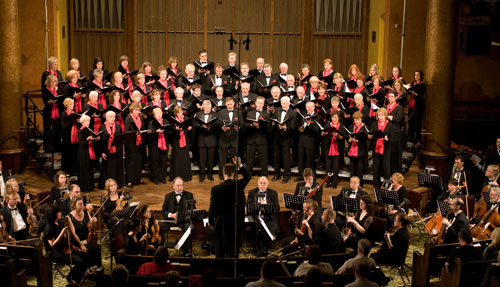 Our final concert for our 40th anniversary season featured two major works: Lux Aeterna by Morten Lauridsen and John Rutter's Mass of the Children. Both works, accompanied by orchestra, depict the joys of light and hope in our world. The beautiful, gripping harmonies of the Lux Aeterna are the musical setting of sacred Latin texts containing references to Light, while the Mass of the Childre is a musical representation of the day in the life of a child.  The choir was joined by the Canterbury High School Singers and the Ottawa Children's choir as well as Ottawa soloists Maghan Stewart and Phillip Holmes.
This concert featured a multi-media presentation using artwork from the Ottawa community. Images of the artwork used can be found on the artwork page.