Magnificat!
Tuesday, December 17th, 2013, 7:30 p.m.
Woodroffe United Church
207 Woodroffe Avenue, Ottawa
Poster (click to enlarge)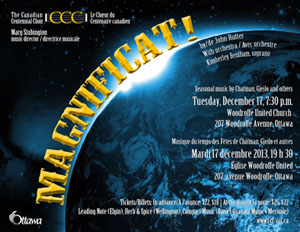 We open our 46th season with John Rutter's Magnificat for SATB choir, soprano soloist Kimberley Bentham and orchestra; a joyous celebration of the Virgin Mary, inspired by feast-day festivities in countries such as Spain, Mexico, and Puerto Rico. Other works include Serenity (O magnum mysterium) and Gloria (with piano duet) by Norwegian composer Ola Gjeilo, and Carols of the Nativity by B.C. composer Stephen Chatman.
This Is Why I Sing
Sunday, March 9th, 2014, 3:00 p.m.
St. John the Evangelist Church
154 Somerset Street at Elgin, Ottawa
Poster (click to enlarge)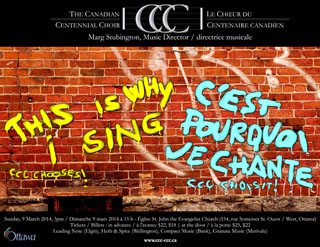 We present a diverse collection of choral music chosen by choir members, with Nick Rodgerson, piano. Our director asked each member to submit two of their favourite pieces. From these submissions she has crafted a dynamic and cohesive program. What do we love to sing and why? Come and find out!
Spring Tango
Saturday, May 3rd, 2014, 7:30 p.m.
Southminster United Church
15 Aylmer Avenue at Bank Street
Poster (click to enlarge)

This concert will feature the world premiere of a Canadian Centennial Choir commissioned piece for SATB choir and percussion by Ottawa composer Nicholas Piper. We will "tango into spring" with the energetic music of Astor Piazzola, the elegant Tango to Evora by Canadian Loreena McKennitt, and Eric Whitacre's Five Hebrew Love Songs, with violinist Sean Kemp.