CCC Grooves!
Saturday, September 26th, 2015, 7:30 p.m.
Centretown United Church
507 Bank Street, Ottawa
Poster (click to enlarge)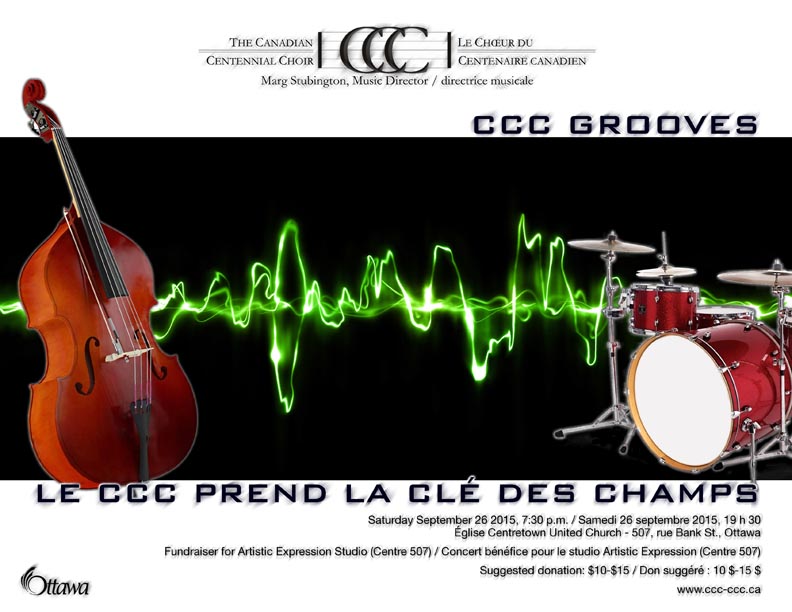 A return engagement of our fabulous May 2015 performance!
Special fundraising concert for the Artistic Expression Studio at Centre 507 adult drop-in centre and support service.
Admission by donation (suggested: $10-$15)
In this fun and informal concert, the full choir and smaller groups will entertain you with a lively selection of jazz, pop and Broadway tunes accompanied by keyboard, bass and drums. This is a great opportunity to come see the Canadian Centennial Choir sing a fun-filled, terrifically musical concert in support of Centre 507's art program. Bring your kids! Dance along as we sing the Beatles, Abba, classic musical tunes and more, including an amazing piece called Little Jazz Mass (12 fun minutes with piano, bass and percussion accompaniment!). A wonderful chance to see a fun concert, support music and art programs, and spend time grooving with family and friends.
Gloria!
Tuesday, December 15th, 2015, 7:30 p.m.
Woodroffe United Church
207 Woodroffe Avenue, Ottawa
Poster (click to enlarge)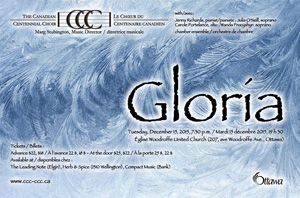 Our 48th season opens with a universally loved choral-orchestral work: Vivaldi's Gloria in D major, RV 589. Our choir and three guest soloists will be accompanied by a chamber orchestra. British composer Bob Chilcott has written a very entertaining setting of the cumulative carol The Twelve Days of Christmas with clever musical twists and turns in various styles. We will perform it with piano duet and percussion along with other seasonal music.
Canadian Choral Gems
Sunday, March 13th, 2016, 3:00 p.m.
St. John the Evangelist Church
154 Somerset Street West, Ottawa
Poster (click to enlarge)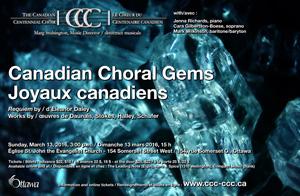 This concert will feature the beautiful Requiem for choir with soprano and baritone soloists by one of Canada's best-known composers, Eleanor Daley. We will also perform Paul Halley's The Rain is Over and Gone and other sacred music by Tobin Stokes, Diane Loomer and Stephanie Martin. Come and hear the quirky Figures de danse by Lionel Daunais and R. Murray Schafer's Gamelan.
American Sunrise
Saturday, May 7th, 2016, 7:30 p.m.
Dominion-Chalmers United Church
355 Cooper Street, Ottawa
Poster (click to enlarge)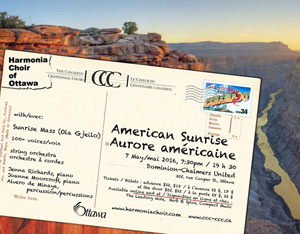 A special joint concert with the Harmonia Choir of Ottawa directed by Kurt Ala-Kantti, celebrating the music of American composers. Over 100 voices will sing the Sunrise Mass, a 30-minute symphonic mass for choir and string orchestra by Norwegian-born New York composer Ola Gjeilo. You will also hear works by Eric Whitacre, Morten Lauridsen and others.